EVELEEN COYLE
Eveleen Coyle devises and plans the Trails along with the great FFT team of guides and keeps abreast of all the new and exciting food developments in Dublin, Cork and across the country.
Following a long (and happy) career in book publishing working with some of the world's leading international publishers
including Bloomsbury, Picador, Penguin, Oxford University Press and Macmillan,
Coyle founded Fab Food Trails in 2006. Her aim has always been to celebrate our local food
produce, reflecting the traditional and contemporary Irish table across the island of Ireland.
While all trails are food led, guests also delight in shared curiosities relating to Ireland's
culture, history and architecture as they walk, chat, explore and taste the produce that has
become an inherent part of Ireland's story.
RÓISÍN FALLON
Róisín Fallon's curiosity about and passion for good food goes back to her childhood, her whole family were involved in the food industry. Róisín has worked as an advisor on many food projects, including Fallon & Byrne in Exchequer Street in Dublin and of course, on the Fab Food Tasting Trail.
CHRIS BINCHY
Novelist Chris Binchy is a fully trained chef and was restaurant critic for The Sunday Tribune. Chris is published by Harper Collins and when not leading our Tasting Trails he spends his days working on his next book.
Dee Laffan
Dee Laffan is a freelance food writer and editor. She is a member of the Food Writers' Guild and Convivium Leader of Dublin's Slow Food Chapter. Formerly editor Easy Food magazine, she has written for The Irish Independent and Sunday Independent.
AOIFE CARRIGY
Born-and-bred Dubliner and dedicated lover of great food, Aoife worked front-of-house in some of the city's best restaurants from her late teens to early thirties. Today she works as a freelance writer and editor specialising in food, wine and travel, as well as delivering lectures in journalism, workshops in food writing and of course food tours with our Dublin Tasting Trails. Aoife is the Chair of the Irish Food Writers' Guild, general editor of a series of cookbooks from the Irish Countrywomen's Association and a periodic blogger at holymackerel.ie.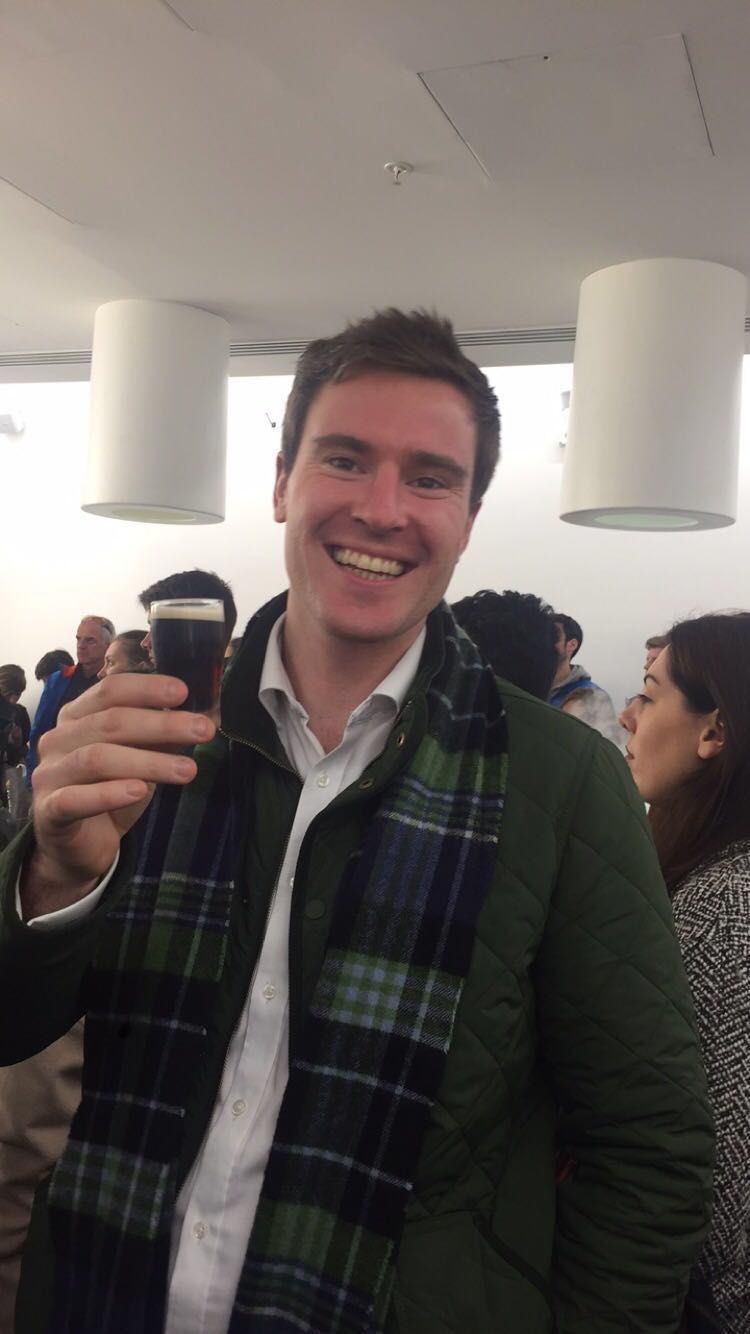 WILLIAM BARRY
Our Cork guide William has many strings to his food business bow, he was bought up among leading food businesses in his native Ballydehob in West Cork. Recently returned to Cork after 7 years away. William writes for the McKennas' Guides and has extensive knowledge of restaurants and food producers across the island of Ireland. When he is not leading tours around Cork he is the country manager for ResDiary and supplies to software to hundreds of Ireland's leading hotels and restaurants, In his free time likes nothing better than to be out sailing and is happiest with his feet under a table somewhere.
CATHERINE ALLEN
Dubliner, Catherine Allen, a Ballymaloe-trained chef and food blogger is one of our Fabulous Food Trail guides. Following a number of years in the finance industry, she decided to follow her passion and is now pursuing a career in the culinary world – she hasn't looked back! Find her on instagram or on her blog https://elbowsoffthetable.ie/.
Miceal Murray
Few people know the food scene in Dublin as well as Miceal. He is the creator of the wonderful takingaleaf, maker of fabulous feasts and taker of beautiful photographs and of course, a great guide. Miceal is a keen and knowledgeable forager.
DEIRDRE MCQUILLAN
Deirdre McQuillan Fashion Editor of The Irish Times, an award-winning travel writer, free lance feature writer and author of a number of cookbooks. Deirdre leads and advises on our Food & Fashion walks as well as guiding our regular Trails.
LORNA BROWN
Dubliner Lorna Brown is a freelance journalist and copywriter. She worked in London during her twenties and returned to her home town and settled in Temple Bar. Food, fashion and art are her passions, and according to Lorna, Dublin is Europe's best kept secret! Follow her blog www.ilovesaturday.ie.
Philippa Moore
Philippa grew up in her family tea rooms in Co. Wicklow so the hospitality industry is somewhat in her blood. She has worked in several different well known spots in Dublin and when she's not guiding a Fab Food Trail you will find her talking all things cheese related in Loose Canon. Philippa loves to travel and experience other cultures and cuisines but thinks there is no comparison to the wonderful produce we have on this little island.
Limerick born Dubliner Bríd grew up in a busy country guest house and restaurant. She studied travel and tourism and went on to open the renowned restaurant Brioche in Ranelagh.
As well as guiding with Fab Food Trails, Bríd works in Event Management, personal styling and as a personal shopper all of which has given her in-depth knowledge of Dublin's food and fashion retail scene.
Sarah grew up in County Kerry in the countryside where her mother and grand mother gave her the love of all things food. Growing, baking, making and serving. Sarah loved watching Darina Allen on tv in the 80s and 90s, much to the confusion of her siblings, and as soon as she could she got a job in bars, cafes and restaurants. She traveled the world working, eating and learning about food and service from place to place but always returned to the food capital of Ireland-Cork! Sarah earned a degree in Hotel and Catering management at Cork Institute of Technology. Sarah spent 3 fabulous years under the watchful eye of the wonderful Kay Harte in the Farmgate Cafe in the English Market and now works in a newly opened Restaurant called the Spitjack and joined the Fab Food family in February!
Keelin Tobin
Keelin is passionate about both food and her native place of Cork. She is Coordinator of Cork Food Policy Council. A keen food activist, she is learning how to grow stuff as part of an urban grassroots collective. Keelin has trained and worked as a Professional Chef and holds a Masters in Anthropology of Food from SOAS, University of London.
Aoife has been working as a chef in Cork city for over 16 years. After qualifying with a diploma in Professional Cookery from CIT she honed in on her passion for food by learning from some of the city's most experienced chefs. In 2012 she travelled to Canada where she continued to collaborate with new chefs & was inspired by different cultures. Upon returning home, she joined the team at the Farmgate Cafe in the English Market & it is here where she really cultivated her interest in farm to fork approach & the importance of cooking with local produce for which Cork is famous for. Aoife now works as a pastry chef for the well respected dessert company 'Wicked desserts' & loves expanding her knowledge of baking.
Erica Drum was raised near the fishing village of Howth, Co Dublin. It is where she worked as a chef and restaurant manager influencing her passion for food, hospitality & tourism. She was raised by a family of food lovers and has always had a love for locally grown Irish produce cooked with a simplistic approach. Now living in the heart of Dublin city, Erica enjoys exploring and sampling the cities restaurants and cafes. Having recently become a private chef and tutor, she loves to welcome individuals & groups to her kitchen for cookery demonstrations and can be found on Instagram @ericadrum